Dulce et Decorum Est
by Isabelle Ryder (UK)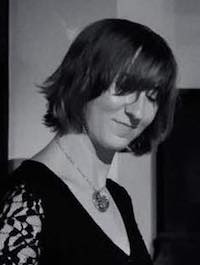 A former earthquake scientist, Isabelle Ryder is now a composer based in Merseyside, UK. Her wide-ranging and colourful music straddles classical, jazz, and folk, and often has a cinematic and/or improvisatory feel to it. Isabelle has released two piano EPs, a singer-songwriter EP and a soundtrack album.
As a music student, Isabelle specialised in piano with London pianist Simon Weale, and took orchestration classes with composer Jonathan Williams. While composing her first commissions, she transitioned into earthquake science, and then spent some adventuresome years (think "nine lives"!) doing fieldwork around the world.
But it wasn't long before Isabelle felt the pull back to her first love of music. She has performed her own works at festivals and concerts, and has been commissioned to write works for bands, festivals and theatre productions. She has completed courses in Jazz Composition and Jazz Arranging with Berklee College of Music, and is currently mentored by LA-based orchestrator/bassist Norman Ludwin.
Dulce et Decorum Est
by Isabelle Ryder

Program Notes
Dulce et Decorum Est is a powerful poem written by British poet Wilfred Owen during the First World War, while he was in hospital recovering from shell-shock. The poem paints a vivid picture of the horror of life on the front line – specifically, a gas attack, in which one of the men did not fit his gas mask in time, and is lost. Owen proceeds to condemn the saying It is sweet and fitting to die for one's country as "the old Lie".
In the orchestral setting, the old Lie is characterised in the opening section by 3 trumpets playing fanfare figures – but very sombre, ghost- like fanfares. Underneath this, the lower strings depict the men trudging and limping through sludge, "drunk with fatigue". Chorale-like winds, harmonically at odds with the lower strings, convey innocence lost (at A).
From B: The chaos and drama of the middle section depicts the gas attack and the ensuing terror. The main motif from the fanfare spawns new themes and accompanimental figures, and is heard in chilling form at the climax of this section (H). At I, there is a poignant elegy for the man lost, played contrapuntally by solo oboe, solo horn and a solo cello.
The final section depicts a resumption of the nightmarish trudging …because what else can the men do? The fanfares make their final ghastly appearance, before the men stamp wearily off into the distance.