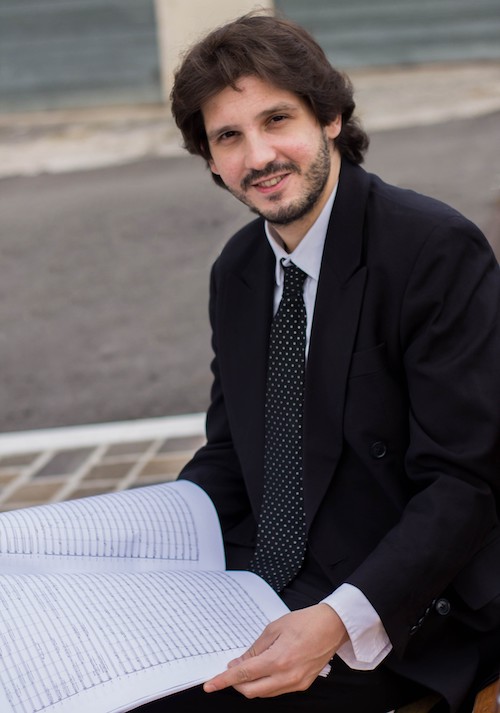 Paolo Fradiani graduated (MA) with 110/110 and honours in Composition and Jazz, he studied at the Conservatory of Music "Alfredo Casella" in L'Aquila and Hochschule für Musik in Mannheim.
As a bass player he has played with some of the most relevant national and international festivals of jazz including Villacelimontana Jazz Festival, Atina Jazz, Tuscia in Jazz, Valsugana Jazz Tour (Trentino Jazz ), Festival Internazionale di Mezza Estate, Suono Italiano 2016 at the Italian Institute of Culture – Istanbul and live on national radio "Radio 3".
His works have been performed in Austria, Belgium, Canada, Croatia, Finland, France, Germany, Hungary, Italy, Netherlands, Norway, Spain, Sweden, Switzerland, Turkey, United Kingdom and USA in festivals such as Festival di Bellagio e del Lago di Como, Invenzioni – New Tubes, Neuköllner Originaltöne, Heidelberger Kammermusikfestival, Werkstatt Neue Musik, Cello Modern, Geophon – Earquake, Arpissima, Casella in Concerto, Festival Arpe in Villa, Festival dei 2 Mondi di Spoleto, Stagione della Società Aquilana dei Concerti B.Barattelli, The Mannheim Project, Stiftung Mozarteum/Mozarteumorchester Salzburg, Theater Aachen/Klassik Lounge, Symphony in the Gardens, Vinterfestspill i Bergstaden, Storioni Festival, Östergötland Music Days, Musikakademie Liszt Ferenc, TivoliVredenburg, Strings City, Zermatt Music Festival & Academy, Festival Nuova Consonanza; and performed by soloists, ensemble and orchestras like as Nabla Ensemble, Anemos Quartet, Ensemble Casella, EMCF Ensemble of Contemporary Music of Ferrara Conservatory, Insieme a Corde Vuote Ensemble, GAM Ensemble, Ensemble del Conservatorio della Svizzera Italiana, Ensemble Impressionnisme, Ensemble der Musikhochschule Freiburg, Spinoza-Ensemble, MA.NM Ensemble, Ensemble Ludwig, Morii Ensemble, Scharoun Ensemble Berlin, Cantus Ansambl, der/gelbe/klang Ensemble, Bard Conservatory Orchestra, Ambassade Orchester Wien, Orchestra I Pomeriggi Musicali, "Collegium Musicum Mannheim" Sinfonieorchester, Orchestra Sinfonica Abruzzese, Symphony Orchestra of L'Aquila Conservatory, Sinfonieorchester TonArt Heidelberg, Sinfonieorchester Aachen, Toronto Concert Orchestra, Lappeenranta City Orchestra, Festival Sinfonietta, Pepperdine University Chamber Orchestra, Philharmonische Orchester der Stadt Trier, Deutsche Radio Philharmonie, Orchester des Pfalztheaters, Duluth Superior Symphony Orchestra, Brussels Philharmonic, Sinfonieorchester der Robert Schumann Hochschule, Orquesta Filarmónica del CSMA, Pacific Symphony, Western Piedmont Symphony, Rockford Symphony Orchestra, Kansas City Symphony, Los Angeles Chamber Orchestra, Buffalo Philharmonic Orchestra, Roma Tre Orchestra, Kammerakademie Potsdam, O/Modernt Chamber Orchestra, Orlando Contemporary Chamber Orchestra, Thüringen Philharmonie Gotha-Eisenach and Berliner Philharmoniker soloists.
His works have been broadcast by radio stations NPO Radio4 (The Netherlands), SR 2 Kulturradio (Germany) and television broadcasters Arte TV (Germany/France) and Podium 19 (Belgium). was awarded at "Insieme a corde vuote" for L'Aquila, at the Italian Ministry of Education's "Premio Abbado 2015" and at "National Festival of Italian Conservatoires – III Edition"; and winner of the national call SIAE "S'illumina Copia privata per i giovani, per la cultura". Has been composer in residence at Società Aquilana dei Concerti "B. Barattelli".
He is currently professor at the State Conservatory of Music "Lorenzo Perosi" in Campobasso (Italy)
His works are published by 2eleven edition musiQ, Da Vinci Edition, Donemus Publishing, Edition Margaux and Universal Edition.
His composition Nocturn I – II will be performed during the Sydney International Composers Concerts 2023 on April 14 2023 at TLC Theatre Sydney Australia.

Nocturne I
It is a narrative piece and a sound representation of the evocative atmospheres of Nietzschean thought derived from the light/darkness dualism. The piece is in song form and is thought, in part, of as a continuous contraction and relaxation of time.
Nocturne II
The piece is a mix derived, in part, from Prelude No.2 in C minor book I by Johann Sebastian Bach and from Avec le temps by Léo Ferré; it is organized as a perpetual motion of descending arpeggios that evoke the image of an infinite progression.